Building Safe, Sustainable, Secure Manufacturing Supply Chains with Avetta
Without Avetta
Lack of Standardization & Burdensome Regulations
Manual, disparate contractor management and compliance programs lead to risk-prone, inefficient operations vulnerable to costly disruption.
Image
With Avetta
Efficient Operations & Fully Managed Third-Party Risk
Streamline your supplier and contractor compliance program to boost efficiency, keep up with today's challenges, and minimize critical risks.
Image
Worker Shortages, Process Inefficiencies & New Challenges Haunt the Industry
Safety and efficiency is everything
Lack of site standardization and manual processes lead to unpredictable quality, inconsistent compliance, and unqualified workers—resulting in disrupted operations when safety incidents inevitably occur.
Labor shortages create risk
Hyper-growth and labor shortages are a revenue-killing combination, but short-term fixes with underqualified contract workers can cost manufacturers more than new business opportunities.
Delayed projects bleed cash
Inefficient contractor management, growing regulatory burdens, and unchecked supply chain risks lead to costly disruptions that destroy manufacturing productivity and profitability.
Emerging risks impact productivity
As financial and cybersecurity threats multiply, and sustainability regulations increase, manufacturers must address these emerging challenges to protect their supply chain and avoid significant fallout.
One Modern Platform for De-Risking Your Supply Chain
Streamline & Automate Prequalification and Management
•    Standardize & enforce site-to-site compliance standards
•    Eliminate production delays with fast, automated prequalification 
•    Source qualified suppliers & contractors from our global network of 125,000
Drive SIF Reduction with Standardized Processes
•    Get visibility into every contractor, sub, and worker at your sites in one place
•    Ensure every worker is properly qualified, trained, and ready to work
•    Eliminate spreadsheet tracking to spend more proactive time in the field
Comply With Increasing ESG Regulations & Expectations
•    Easily screen 100% of your supply chain with right-sized ESG evaluations
•    Comply with ESG and emissions reporting requirements
•    Source & report on diverse and local suppliers to satisfy diversity initiatives
Proactively Manage Supply Chain Cyber Threats
•    Get ahead of cyber risk to avoid costly production interruption 
•    Upgrade your cyber protection to protect interconnected facilities & networks
•    Continuously monitor all third parties for cyber vulnerabilities
Find Manufacturing Suppliers on the Avetta Network
The Avetta platform provides access to a roster of industry-leading professionals, vetted and verified to meet your team's standards.  
Resources for Manufacturing Supply Chain Professionals
Huntsman Corporation reduces US total recordable incident rate (TRIR) by 74%
Supplier Prequalification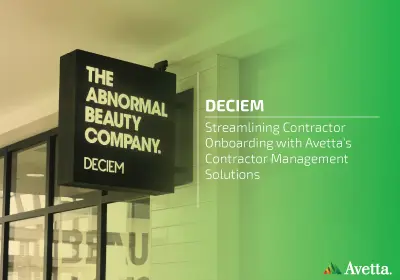 DECIEM sees a 32% increase in contractor count within the first month of solution…
Contractor Prequalification, Analytics, Worker Management
Kerr Compressor Engineers (EK) Ltd. Strengthens health and safety practices
Avetta Connect, ESG, Audits, Learning Management System